What is  Fully Funded Chevening Scholarship UK?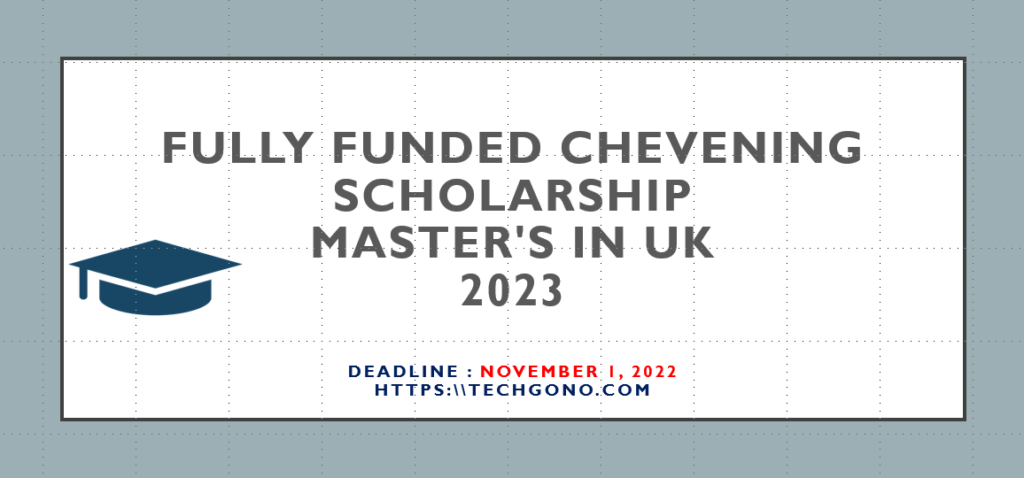 With the help of Chevening Scholarships, exceptional young leaders from throughout the globe can study for a one-year master's degree in the UK. There is no such thing as a "typical" Chevening Scholar, but we do seek out those with the drive, vision, and power to offer the solutions and leadership required to build a better future.
These scholarships are fully supported, so you are free to concentrate on reaching your professional objectives and making the most of the experience of a lifetime because flights, lodging, and course fees are all covered. You will stay and attend university in the UK for a year. You will develop professionally and academically, network internationally, learn about UK culture during that period. After finishing your studies, you will depart the UK with the skills and connections need to realize your own ideas.
Application Processing steps for Fully Funded Chevening Scholarship UK:
The steps for processing the application are as follows:
Select the ward i.e. select your country and award which is scholarship or fellowship from here : Your origin
Filing out the online application.
Submitting applications to universities and being accepted
English proficiency test for interviews.
You can read more on Application criteria from here : Fully Funded Chevening Scholarship UK Criteria
More on Scholarship for Fully Funded Chevening Scholarship UK
Duration : 1 Year.
Degree : Masters.
Deadline : November 1st 2022.
Each year Chevening Scholarships UK opens in November and ends in December.
Scholarship's worth Fully Funded Chevening Scholarship UK
Waiver of the tuition.
Return tickets in the economy class.
Arrival compensation.
Travel funding.
A payment to cover the cost of the visa application.
Departure compensation
Up to £75 in reimbursement for TB testing
A payment made each month to cover living and housing costs.
 Eligibility Criteria For Fully Funded Chevening Scholarship UK
Before applying, an applicant must be a holder of a bachelor's degree.
Must be a national of a country or territory that is eligible for Chevening.
.Two year required experience.
Must meet the requirements for the English language requirement.
More details regarding the requirements for eligibility are available here.
Types of job experience acceptable
Work experience of the following kinds is acceptable for Chevening:
Working full-time.
Partial-time work.
Unpaid employment.
Internships, whether paid or unpaid.
for more information you can read the article here : FULLY FUNDED Chevening Scholarship UK
Guidance for Fully Funded Chevening Scholarship UK:
The best chance of receiving a fully funded Chevening Scholarship to study in the UK is via preparation. We've compiled our greatest tips and recommendations for you.
You'll be in a position to:
Find the appropriate courses.
Pick suitable references
Avoid the typical errors that other applicants make.
For more detail guidance you can click here: Official guidance for fully funded Chevening Scholarship
Courses Registration for Fully Funded Chevening Scholarship UK:
In order to be considered for a Chevening Award, applicants must choose three courses. This implies that if for any reason you are not given a place on your initial course option, you will have backup plans. Additionally, it gives our assessors a stronger idea of your professional objectives, and they may recommend your second or third course choice as a Chevening Award candidate.
Take caution when selecting your three courses. After submitting your application, you won't be able to change your course preferences unless you are given permission to do so during the interview process.
Click on this link and scroll down a bit on a page to find courses you want to register : Finding Course
Application Submission Portal:
You have to register yourself  first for application process for this purpose register here: Scholarship Application register Portal.
for further Guidance click Here. Guidance Tutorial
You can also apply for other scholarships from here: