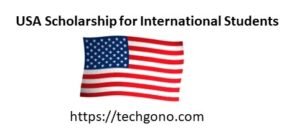 AAUW International Fellowships is a fully funded USA Scholarship for International Students to enroll in accredited United States universities for master's, doctoral, and postdoctoral degree programs. AAUW Scholarships are available to female students who do not hold U.S. citizenship or legal permanent residency and intend to return home after receiving their degree. The AAUW Fellowship will pay for the expenses of the Scholarship program.
A nation's future lies with its women. More than 320 Fellowships were given out the year before. Applicants to the AAUW Fellowship must hold a bachelor's degree and must have submitted an application to a US university at the time of their application.
Summary of AAUW International Fellowships (USA Scholarship for International Students)
Location: U.S.A.
Education: Masters, PhD, Post Doc
Financial Protection: Yes, Fully Funded
Official Link: AAUW Fellowships USA
Submission Deadline: Nov 15, 2022
APPLY Link: Click here for APPLY
Please click on AAUW Fellowships for detail regarding below information:
What is AAUW Scholarship in the USA?
AAUW International Fellowships in USA for Women
Detail information on AAUW International Fellowships USA
AAUW International Fellowships USA Award includes
Eligibility FOR AAUW International Fellowships USA
Selection Criteria for AAUW International Fellowships USA
How to Apply for AAUW International Fellowships USA
USA Scholarship for Pakistani & Indian Students:
Pakistani and Indian female Students can apply for AAUW scholarship.
You can also check for other Scholarships as well:
FOR  RECENT UPDATES
for getting updates on regular basis you can join our telegram group